He Called Me Sister: Bishop Brian Cole and Suzanne Craig Robertson in Conversation
April 27 @ 7:00 pm

-

8:00 pm

Free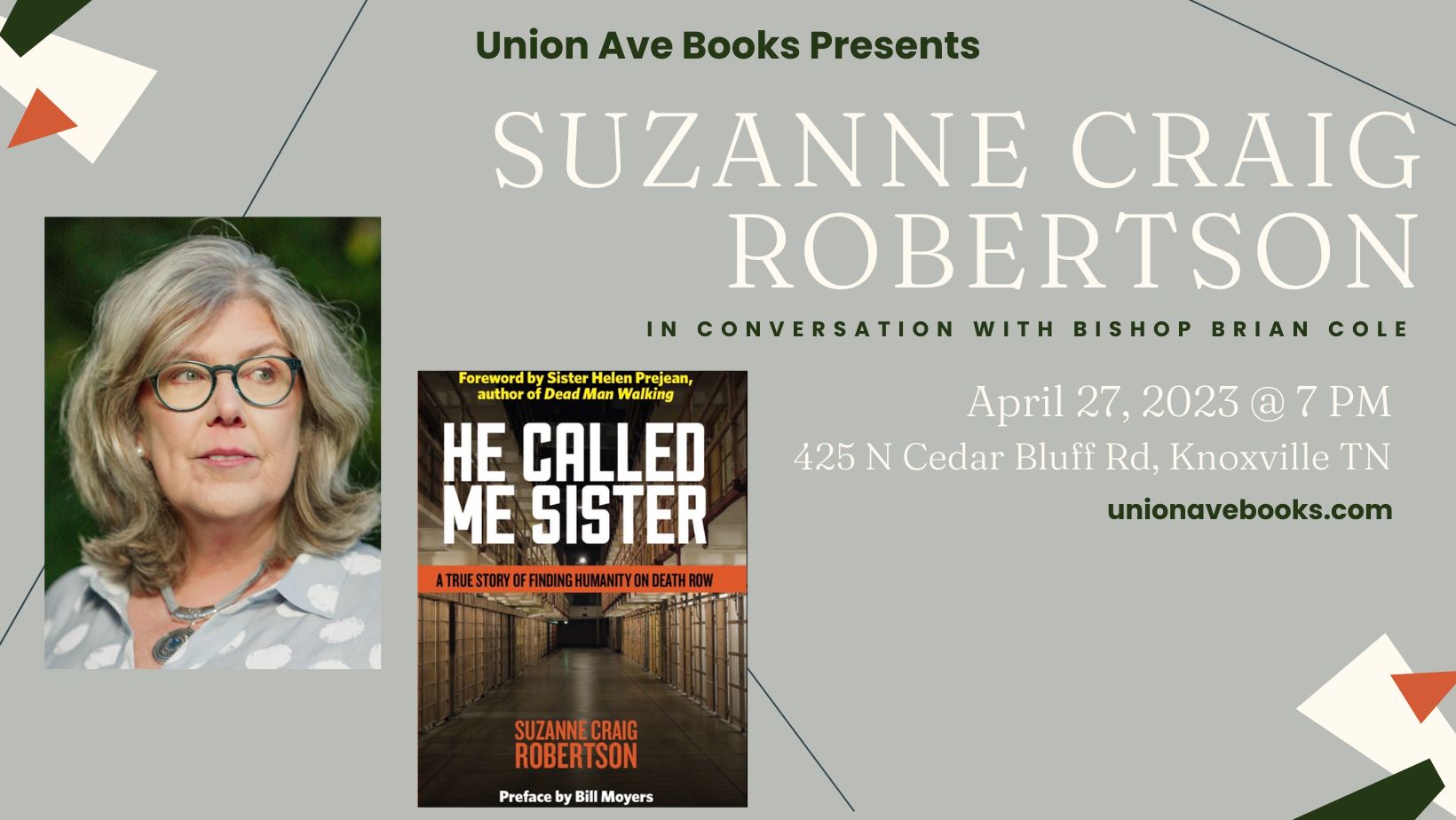 Union Ave Books presents an author event featuring author Suzanne Craig Robertson in conversation with Bishop Brian Cole.
This event will take place April 27, 2023 at 7 pm.
Thank you to Church of the Good Samaritan for hosting this event at 425 N Cedar Bluff Rd, Knoxville.
About the Author:
Suzanne Craig Robertson is a writer, former statewide legal magazine editor and bar association communicator, where for more than 30 years she interviewed and wrote stories about state Supreme Court justices, recovering alcoholics and drug addicts, lawyer-missionaries, low-income people in need of legal services, women who broke through glass ceilings, the legal system, and more. A life-long Christian, she has questioned her churches many times, but never her faith. A graduate of the University of Tennessee, she also recently earned a Master of Arts from the Nasland-Mann School of Creative and Professional Writing at Spalding University in Louisville. She lives with her husband in Nashville, 20 minutes and worlds away from Riverbend Maximum Security Prison.
About the Book:
The fascinating, moving story of a friendship with an inmate on death row.
It was a clash of race, privilege, and circumstance when Alan Robertson first signed up through a church program to visit Cecil Johnson on Death Row, to offer friendship and compassion. Alan's wife Suzanne had no intention of being involved, but slowly, through phone calls and letters, she began to empathize and understand him. That Cecil and Suzanne eventually became such close friends—a white middle-class woman and a Black man who grew up devoid of advantage—is a testament to perseverance, forgiveness, and love, but also to the notion that differences don't have to be barriers.
This book recounts a fifteen-year friendship and how trust and compassion were forged despite the difficult circumstances, and how Cecil ended up ministering more to Suzanne's family than they did to him. The story details how Cecil maintained inexplicable joy and hope despite the tragic events of his life and how Suzanne, Alan, and their two daughters opened their hearts to a man convicted of murder. Cecil Johnson was executed Dec. 2, 2009.
"This is Suzanne Craig Robertson's moving story of a death in Tennessee. While disquieting and troubling, the story is gracefully intimate, respectful of all parties, tender and moving. She subtly honors the emotions inevitable in a story of innocence and guilt; of our collectively taking a life; of race and politics, right and wrong, and of wrestling with questions haunted by biblical memories that we confront every day." —Bill Moyers
"Pregnant with a sense of tragedy and wrestling with what could have been, He Called Me Sister is a touching memoir about how faith and love reached beyond prison bars."
—Foreword Reviews
"Here's the truth: I choked up on the dedication page of this book and now, weeks later, I am still tearing up at random moments, still thinking about this incredibly moving story. Suzanne Robertson takes us with her and her family on a journey to a place that few of us want to see or understand better—but, for the sake of our humanity and community, desperately need to: Death Row. We are introduced to an inmate, Cecil Johnson, who is also a poet, a cook, a football fan, a once-neglected child, a family member, a friend, and a man for whom the justice system did not work as it should. To my amazement, the author gives us moments to laugh on this journey, moments of wonder and even beauty—as well as plenty of moments to weep. He Called Me Sister is a story of becoming family with someone whose life experiences could not be more different, a tale of tragedy and mishandled evidence and crushed dreams—but also of authentic connection and goodness and hope. He Called Me Sister is a must read for all those who are pro-death penalty, all those who are anti-death penalty and, truly, everyone in between." —Joy Jordan-Lake, bestselling author of A Tangled Mercy and Why Jesus Makes Me Nervous
"In this carefully reported, heartrending story of her family's personal relationship with a Death Row prisoner, Suzanne Craig Robertson interrogates the justice system's deep inequities, as well as her own journey from trusting in the system to seeing it for what it is—human-made, biased, and deeply flawed. He Called Me Sister is a captivating story of the power of showing up for one another, of choosing to be in community even in the face of ultimate unknowns." —Erin Keane, author of Runaway: Notes of the Myths that Made Me