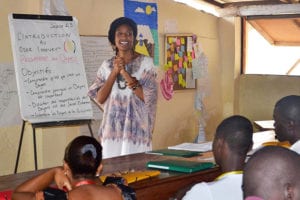 By The Rev. RJ Powell and Ms. Wiatta Thomas
---
Among the daily deluge of rapid changes in our world that put many of us on edge, there has been increasing chatter throughout the Episcopal Church generally wondering how well we are engaging the world in the midst of these changes and how well we, as a Church, are living into the baptismal identity to which the Spirit has called us in Jesus Christ. "Will you strive for justice and peace among all people, and respect the dignity of every human being?" (BCP 305) These words from the Baptismal Covenant have resonated deeply from the first time Wiatta answered with the words, "I will with God's help."
Wiatta Thomas, a life-long member of St. James Episcopal Church in Knoxville, Tenn., moved to Guinea in 2011 as a Peace Corps Volunteer in Economic Development, ready to create solutions to the unemployment problem in West Africa. However, after launching an entrepreneurship training program, and training over 2000 youth across the country, she quickly realized that when the entire economic ecosystem is completely underdeveloped, training for non-existent jobs was futile, and handouts did nothing to alleviate their poverty.
Wiatta tells a story, one of many similar tragic stories she's encountered in her time there:"Young, educated and unemployed, by January of 2008, Aissatou had just graduated from secondary school in Guinea, West Africa. Her family had saved every single cent they could in order to send her to university where she excelled and graduated with a finance degree. It was a long and expensive road for her and her family, but they were sure it would help pull their family out of poverty.  Yet, ten years after graduating, Aissatou still had not found employment. Desperate to find some relief for her family's poverty, she lost her life trying to cross the Mediterranean Sea from Libya in a futile attempt to find work."
Guinea is a beautiful country, with beautiful land rich with agricultural potential and some of the largest natural mineral deposits in the world. Yet the young adult unemployment rate is at an unimaginable 71%. This segment of the population is Guinea's most tragically untapped resource.
"If you can imagine what 71% unemployment looks like, it is a country where hope is rare," says Wiatta, "where vibrant, intelligent young adults have very little space in which to use or apply their imaginations.  Forward movement is non-existent."
"What these young people need is to be ignited, set on fire again with hope, with belief, that a fruitful tomorrow is possible. This need virtually hangs in the air as you walk through the streets observing and speaking with these young people. Simply put, they just need an opportunity."
She and her team asked the question: What if, instead of sending loads of canned goods and used clothes to developing countries, we chose instead to respect their dignity? Instead of patronizing handouts, what if we instead taught women and young people in poor, underserved countries to grow clean and healthy food for themselves and their communities, while developing industries that would increase employment and build local economy? Could paying attention to and enhancing people's dignity bring about peace and justice?
What was born out of these questions was Dare to Innovate, a non-profit business incubator that trains young people in entrepreneurship, invests in their businesses, and provides coaching for growth.  Dare to Innovate trains young people in entrepreneurship, business management, developing brands, while support logistics and sales to get their products to market.
Dare to Innovate's newest venture is AquaFarmsAfrica, a project bringing sustainable urban agriculture to Guinea through the introduction of contained aquaponics systems. This year, in partnership with UNDP and the World Bank, Dare to Innovate will be training and equipping 100 young adults and women to own and operate 20 AquaFarmsAfrica aquaponics franchises. Each 40ft2 system produces a minimum of 10 tons of fish and vegetables per year with the use of very little water and electricity.
With the initial investment in 20 systems, this project will create sustainable employment for 200 women and young people in Conakry, the capital of Guinea.  Trainees will receive 3 months of expert training and practice, seed and start-up inputs, and logistics, marketing and sales support for their produce to local hotels and restaurants, making real, lasting impact on the lives of these families and communities.
Inspired by her own family's flight from war-torn Liberia, finding their home in the United States, Wiatta continues their courageous legacy of radical hospitality, recognizing the face of Christ in each person she meets, and hearing the Spirit's call to "do justice, love mercy, and walk humbly before God." (Micah 6:8) Her work in Guinea is deeply rooted in her faith in Jesus Christ, as she daily responds to the Covenant relationship with God and all creation that she first heard in her Baptism.
If you are interested in learning more about Wiatta's work in Guinea, including how you too might help her efforts, please contact her at wiatta@daretoinnovate.com or visit the AquaFarmsAfrica crowdfunding campaign at https://www.gofundme.com/aquafarmsafrica.
"There is one body and one Spirit, just as you were called to the one hope of your calling. (Ephesians 4:4)