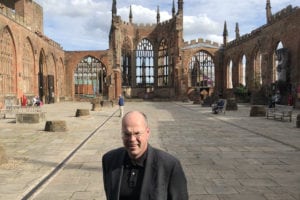 Bishop Brian is in Coventry, England, at the invitation of the Rev. Robert Childers, for the Community of the Cross of Nails International Members' Gathering, "Growing Together in Hope." They are joining 70-80 CCN members who are meeting at Coventry Cathedral Sept. 26 to Sept. 30.
Childers, who has been appointed to the board of directors of the Community of the Cross of Nails, North America, had his first experience of Coventry Cathedral when, at 20-years-old, he traveled from a small town in Alabama to be a summer tour guide there. He said that experience changed his life.
The Cross of Nails is a worldwide network of over 200 churches, charities, peace-building centers, and educational and training organizations, inspired by the Coventry story of destruction, rebuilding and renewal, and active reconciliation in our own ways.
All members adhere to the three guiding principles of the Community of the Cross of Nails: Healing the wounds of history, Learning to live with difference and celebrate diversity, and Building a culture of peace. Members are guided by the words "Father Forgive!" and pray the Litany of Reconciliation on a regular basis.
In his first year of ministry as our bishop, Bishop Brian is responding to the call for reconciliation in our diocese, in the wider church, in our country, and in the world. A group focusing on Racial Reconciliation in East Tennessee formed in our diocese earlier this year. The bishop's vision for the mission of our diocese is "Reconciling All Things in Christ." He is seeking to live into this vision and gather tools to assist us as a Church in this important work. The Cross of Nails Community is a deep and important model for the work of reconciliation.
Bishop Brian said, "The work of reconciliation is at the heart of the Christian gospel. Because we have been forgiven, we can forgive. Reconciliation is not easy, but it is possible. To truly experience the life abundant, it is essential."
Please keep Bishop Brian, the Rev. Childers, all gathered for the conference, and our ministry of reconciliation here in East Tennessee in your prayers. We'll hear more from Bishop Brian about the Community of the Cross of Nails and about Reconciling All Things in Christ in the days to come.
_____________________________________________
Follow us on Facebook or Instagram for posts from Coventry.
Find "Reconciliation" videos on Vimeo
Read the article "Good Shepherd Episcopal's Rev. Robert Childers Invited To Coventry Cathedral Cross Of Nails Conference" on The Chattanoogan's website.
Learn more about The Community of the Cross of Nails
The Litany of Reconciliation may be found here.
To learn more about Racial Reconciliation in East Tennessee, contact the Rev. Timothy Holder, tholdertn@gmail.com, and see resources for Racial Reconciliation on our website soon.