Lenten Lunch & Learn: Community Engagement and Space Sharing for the Modern Church
March 28 @ 12:00 pm

-

1:00 pm

Free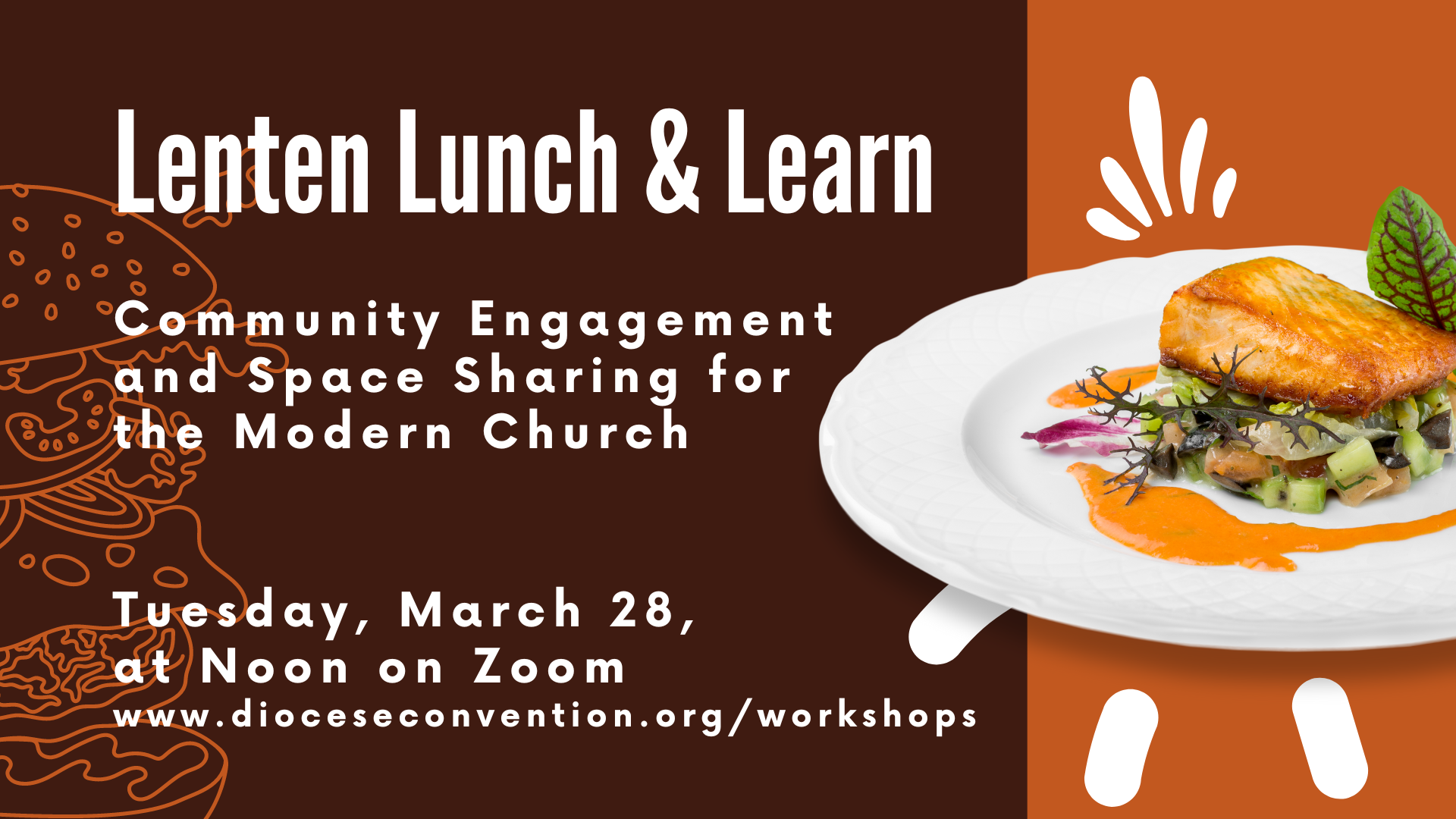 The Lenten Lunch & Learn series returns in 2023 after the annual diocesan convention. These popular workshops feature useful tools, resources, and best practices for the life and work of our East Tennessee communities. Each session will be on Zoom on each Tuesday in March at Noon. Please register for each workshop you wish to attend. Please note: All workshops are subject to be rescheduled as planning continues for each session in the coming weeks. To stay up to date on any scheduling changes, please register for the workshop topic of your choice and we will notify you of any changes. Each session will be recorded for later viewing on this website and on the diocesan Vimeo account.
Community Engagement and Space Sharing for the Modern Church – Tuesday, March 28, 12:00 pm, Zoom
Partners for Sacred Places, the only nationwide nonprofit organization dedicated to the sound stewardship and active community use of historic religious properties, brings to Eastern Tennessee its 34 years of expertise to help guide churches looking to engage with their communities beyond the stained glass curtain and working through the practical matters of sharing their space with others. Sharing space both provide resources to steward aging church property, while also leveraging the church building as a key tool for ministry and mission. This one hour webinar will explore best practices for opening your doors to those outside of your membership as well as recognizing the assets and amenities potential space sharers have by being your partner. Partners will also provide much needed practical advice that applies to any space sharing relationship. From calendars to security and from trash collection to rental payments, Partners has words of wisdom about all of it.
Biographies
Joshua Thomas Castaño
Director of Special Initiatives
For Joshua, being raised in Paterson, NJ unlocked a love of diverse communities and a recognition of the power of heritage places. After studying art and architectural history at Oberlin College, Joshua returned to Paterson to begin a career in historic preservation, where his experiences shaped a profoundly community- and people-focused approach to preservation that combines engagement with economic development, grassroots organizing, and institutional networking.
Building on his interest in historic religious properties, Joshua moved to Philadelphia in 2013 to join Partners for Sacred Places. Finding an alignment with his passion and mission at Sacred Places, he has built a career serving in multiple positions, giving him a breadth of knowledge and experience across the organization. After a series of accomplishments in various roles, he now serves as the Director of Special Initiatives reflecting his expertise in developing new programs and leading innovative efforts that support congregations across the nation. Currently, Joshua leads programs that serve congregations in over six states that include capacity-building, technical assistance, community engagement, and capital grant making.
Karen DiLossi
Director of Strategic Partnerships
Karen, a native Philadelphian and trained theatre artist, started at Partners for Sacred Places in 2011 as their Director of the Arts in Sacred Places bringing together arts organizations who were looking for space together with congregations who have space to share and who were willing to share it with artists. In a 12 year span and title change to Director of Strategic Partnerships, Karen's system of bringing entities together has grown to include any/all nonprofits including childcare, feeding programs, counseling, and new business entrepreneurs. Karen has developed a Manual of Best Practices for Space Sharing, guided contractual agreements between entities, written Space Assessment Reports, and led community engagement activities.
Karen has written many articles about space sharing and also served on a number of conference panels and webinars on the subject. She works with congregations and outside organizations to find the mission and vision alignment between them that will solidify their partnership and provide a solid foundation for their future together. Karen also works to negotiate and find compromise between entities, again finding a place where they both can thrive from sharing space with one another. Most importantly, she works to make the relationship a sustainable one for both parties. Karen has her BA in History and Drama from Washington College and an MA in Theatre from Villanova University.