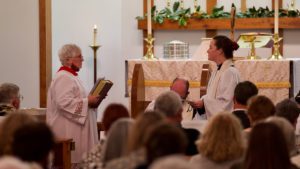 ATHENS, December 9, 2021 – With a full choir and a full church, The people of St. Paul's Episcopal Church welcomed The Rev. Claire Brown as their new Rector and celebrated their robust ministry in the Athens community. The Right Rev. Brian L. Cole, Bishop of East Tennessee, celebrated the service with The Rev. Joe Woodfin preaching.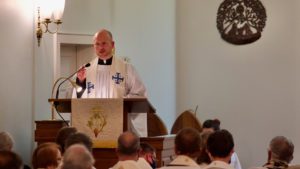 "We are here to celebrate that you have found someone who is a partner and a leader in ministry." the Rev. Woodfin noted. "She is a priest who loves Jesus and who cares deeply about the church." 
In his welcoming notes to the congregation, Bishop Brian Cole stated, "We're grateful for Claire Brown and that you have said yes to this community and that your family has said yes. And I'm grateful that you said yes many many years ago to being open to God's call in your life. […] When you think about long haul ministry or long-term investment, think about these children tonight who are witnesses to this century when we pray by God's grace for the next one. We want you all to be here for the long haul."
Grace House, Table Graces, and Love, Period. are among St. Paul's many ministries. Grace House, founded by St. Paul's, is a homeless shelter that can house up to 14 men who struggle with addiction. Table Graces is the largest USDA-certified food pantry in McMinn county distributing up to 200 boxes of supplies a week. Love, Period. provides period products for critical demographics in the Athens and McMinn county area. Supported by countless donations and partnership with Aunt Flow and A Step Ahead Chattanooga, Love, Period. distributed 50,000 period products across 2021. You can volunteer and donate to these and other ministries by visiting stpaulsathens.org.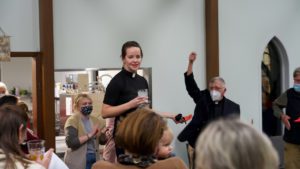 St. Paul's Episcopal Church, Athens, is one of 50 Episcopal churches in the Episcopal Church in East Tennessee with over 150 years of active ministry in the Athens area. More information on St. Paul's worship services and ministries are available at stpaulsathens.org.
For more photos, visit the Episcopal Church in East Tennessee's Facebook page.