Bishop Brian is pleased to announce that Mary Embler will be joining our diocesan staff as Diocesan Administrator when Kirby Purjet retires in August. But you'll be seeing Mary at the Diocesan House before then as she and Kirby will be working together as August approaches.
Mary is a Knoxville native and has been a member of Good Samaritan in Knoxville for 36 years.
She is a graduate of Tennessee Wesleyan University with a Bachelor of Applied Science degree in Accounting and Management. She's worked in the accounting field, with the last 26 years spent at Shoney's of Knoxville, Inc. in various accounting/management roles, serving as Chief Financial Officer for the last 14 years.
Mary said she is "forever volunteering for things in the church and diocese," so many of you already know her. As a diocesan volunteer, she has served on the diocesan Finance Committee for two years; as an annual convention volunteer coordinator for five+ years; as a convention teller for two years; and she's volunteered on Happening staff for many years. At Good Samaritan, Mary has served as a Sunday school teacher, Kerygma Bible Study leader, and as a member of many committees and teams.
Mary and her husband, Doug, have two children. Daughter Liz is a priest currently serving as Associate for Congregational Development at St. Paul's Episcopal Church in New Orleans. Son John is Regional Controller for Waste Connections.
The Emblers have hearts for animals and rescued "Bug the Dog" 1 ½ years ago. "Actually," Mary said, "she rescued us. She's a mess, but we love her," adding, "I also love my grandfurs and grandchickens."
Mary also has a wide range of interests. She is a big reader; currently leading a Good Samaritan Book Club, and she likes to cross stitch. She loves to see live bands in Knoxville with Doug. "I like all sorts of music," she said, "but especially Four Leaf Peat," a traditional Irish band that plays in assorted venues. And the Emblers have a close connection to the band as the dulcimer player is their vet.
Connection in the community is important to Mary and she said that pretty much everywhere she goes, she finds people she knows. In May, Mary joined Kirby at a Clergy Pension Group (CPG) Benefits Partnership Conference. "Kirby knows everyone," she said, "so I met a lot of people."
Bishop Brian and Diocesan House staff are excited to welcome Mary to the staff.
"Kirby has done a great job in his management of our financial resources in service to equip East Tennessee Episcopalians for ministry. I am so pleased Mary said yes to joining the diocesan staff and am eager to see how her gifts will bless the next chapter of shared Episcopal ministry in this region," Bishop Brian said.
Mary said, "I'm looking forward to working closely with clergy and the Diocesan House team."
Please join us in welcoming Mary to her new role as Diocesan Administrator!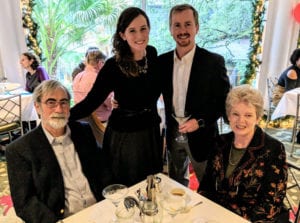 In the photo above (right to left), Mary, at far right, is pictured with son-in-law Robert Beazley, daughter Liz Embler-Beazley, and husband Doug (far left).