Interested in participating in Ashes to Go? The following resources should be helpful.
 Download the Tri-fold Brochure Template
The template is a Word document, based on a resource from Holy Trinity, Decatur, Georgia (you can view their brochure on the Ashes to Go Resources page). The simple template was created using text boxes and has sections where you would type over to fill in church information or Lenten services and programs. It is just a template – so please adjust or change it, or copy and paste sections as needed. If you have any difficulty with it or any questions, please call Vikki Myers.
---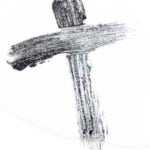 Download the Ashes Image
The picture was taken here, and you are free to use it for any materials you may be putting together.
---
What about location?
There are many possible options for a good location; if you'd like to impose ashes near an establishment or retail store, please check with its management to be sure you would be welcomed there. Some possible locations might be open squares, commuter stops, walking locations, near coffee shops – places with lots of pedestrian traffic, but also hospitals, fire departments, police departments – somewhere you're comfortable and have relationships – a place where people would be comfortable greeted by strangers.
Additional Tips
Download a Tip Sheet from Calvary Episcopal Church
Please Email or Call Vikki Myers if you will be participating so locations may be posted here and media releases may be prepared.